Chemical Free
Quality, gentle clays are the key to absorb oil, add volume & texture
Lightness & Ease for Your Hair Care
en: a prefix meaning 'within or in' + Lihte: (Old English) to illuminate, to make light or easy
A Beauty Ritual
To refresh your hair and welcome a few moments of rejuvenation
Chemical Free

Quality, gentle clays are the key to absorb oil, add volume & texture

Lightness & Ease for Your Hair Care

en: a prefix meaning 'within or in' + Lihte: (Old English) to illuminate, to make light or easy

A Beauty Ritual

To refresh your hair and welcome a few moments of rejuvenation
"I absolutely love the Raven hair powder! It adds volume and acts as a filler for my thinning hair. It helps hide my scalp and gives me confidence while rocking my natural do. I love how it is a completely natural product that works better than other dry shampoos or hair fillers that are full of chemicals. I like to put it on before bed sometimes to allow it to work its magic while I sleep and add a few touch up dabs of powder in the morning. I recommend enLihte dry shampoo to everyone as it can be great for saving time doing your hair and really help those with thinning hair. I would never go without it again it is truly one of the best beauty and convenience products I have."

Diana

"I love this hair powder and use it daily. It has great absorbency, which really helps to stretch out time between washes. It adds tons of texture, volume and has great hold. I use the Dark Brunette and the color blends very well without leaving a grey residue. I highly recommend it!"

Tiana

"I have been using the hair powder now for a year or so and I highly recommend it for many reasons. The smell is grounding and pleasant and the powder is so oil absorbent. I can go 3 - 4 days without a wash. My hair quality has greatly improved with less washing, less heat damage and saves me so much time in the morning getting ready. I love that this product gives great results and is good for you. This saves me time, saves me money (less shampoo cost) and more importantly saves the environment by greatly reducing our water use, consumption and contamination. 5 stars, this one is a winner all the way."

Dr Michelle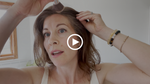 How to Powder your Hair 101
A few tips to make application smooth and simple, from Lindsay
click to play
A year long clay quest, you say?
After a year long clay quest, testing color, absorption, volumizing, and texture qualitites, a few very special clays stood out. These are blended into the color complimenting shades of enLihte hair powders!
enLihte hair powder is an invitation to embrace a chemical free, natural dry shampoo made with quality clays, to gently absorb oil, add volume and give texture to your locks.
Learn more about enLihte